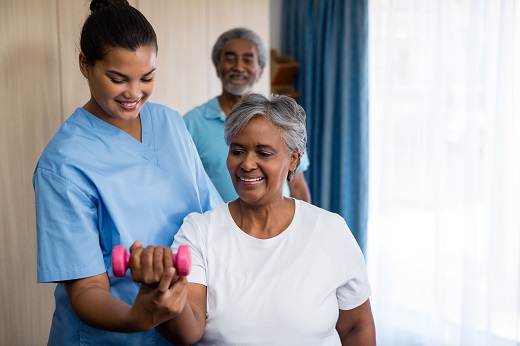 It may be common for seniors to experience a decline in their physical abilities. This is a common occurrence that simply comes with aging. Many seniors even opt for home health care to help them with their activities at home.
Despite this decline, we should note that seniors still need to be physically active. As a home health agency in Florida, we want to help senior loved ones exercise. Being physically active may help them avoid medical conditions that can add to their already-declining state.
One of the best ways for seniors to be physically active is by walking. This activity is simple and does not require much effort to do. This can also be an easy activity for seniors to insert into their routine.
Seniors and older adults can also use weights. It is recommended that they use lighter weights. Lifting heavy weights may be too strenuous for their bodies. Lifting is good for their strength training but they should always know the limit.
Swimming is also a great activity for seniors. This activity can also be safer for their movement training because they are in the water. But they should only swim in depths that do not exceed their height.
It is important to note family members should accompany their senior loved ones while they exercise. No matter what activity it is, they should always keep an eye on them. This is to make sure that they are safe while they do these exercises.
If you need help with senior care, make sure you give us a call here at Nationwide Healthcare Services, Inc. we can help you by providing a home health aide in Miami Gardens, Florida. Call us today to learn more!