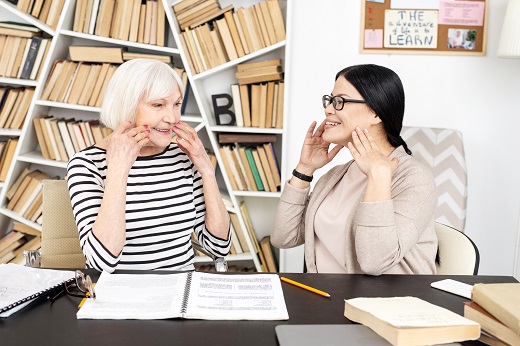 Speech therapy is a type of healthcare service that provides interventions or treatments for individuals with communication disorders and swallowing difficulties. As a leading home health agency in Florida, our speech therapy program helps patients regain their quality of life in the comfort of home. At Nationwide Healthcare Services, Inc., we provide this type of care for individuals with one or more of the following conditions:
Speech Disorders
As part of a home health care plan, speech therapy can improve communication disorders that are caused by muscle coordination issues or brain damage. A therapist utilizes therapeutic techniques to address problems, such as aphasia, stuttering, fluency disorders, and more.
Oral Motor Disorder
An oral-motor disorder is a pervasive problem that affects a person's speech and swallowing activities. This condition is characterized by difficulty controlling the jaw, tongue, and lips ? resulting in chronic problems if left untreated.
Language Disorders
A language disorder can lead to reduced social skills and eventually affects one's way of living significantly. Language disorders can be divided into two: receptive disorders (difficulty in understanding other people's language) and expressive disorders (difficulty expressing one's emotions or ideas).
Oral Aversion
Oral aversion is manifested by children getting irritated with almost anything that touches their mouths. This problem can result in nutritional deficiency in the long run.
Whether for you, your child, parents, or elderly loved ones, our in-home programs are designed to promote optimal well-being right at your home. Depending on your needs, we can send you a skilled nurse, therapist, or home health aide in Miami Gardens, Florida. Reach us at your convenience to get started!