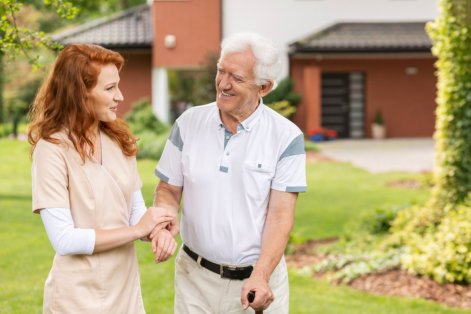 Matters of the heart are not always easy to deal with. But better heart health? It's fairly achievable with just a little amount of effort.
Take a quick scan of the suggestions Nationwide Healthcare Services, Inc. has put together to help you boost your heart health easily!
To begin, you can:
Take a regular walk daily
You don't necessarily have to book a membership at the local gym just to stay physically active. Even a simple ten-minute walk around the block daily can do wonders for your cardiovascular health. Give it a try today! Every small step counts.
Try a bit of strength training
Would you like to keep your body healthily toned and your heart in good shape at the same time? Doing some lifts can help you do just that. You can even start with lifting a hardcover book or small weights daily. But if you find yourself interested in trying a more efficient routine that can improve your mobility and body coordination, you can also reach out to a home health agency in Miami Gardens, Florida, that offers physical therapy.
Add a portion of greens to your meals
Including fruits and veggies to your diet can give a boost not just on your heart health, but your overall health too. But in case you're not a fan of eating them as is, don't worry! There are other ways you can sneak them in your diet without having to sacrifice your sense of taste. You can look up a recipe for a healthy smoothie, and season it to taste with some honey.
Eat a well-balanced breakfast
A good breakfast gets you and your heart energized to tackle the day ahead. Serve yourself a good helping of fruit, whole grains, or whole wheat toast to start your morning!
Avoid a sweet drink
Whether you're diabetic or not, gulping down high-calorie drinks can truly affect your diet in a negative way. Simply by cutting out soda or sickeningly sweet lattes from your daily diet can even help you maintain your ideal body weight.
Keep a hand sanitizer at the ready
Handwashing is the more ideal option in warding off infections that may pose a threat to your heart. But if you're constantly on the go, keeping a hand sanitizer close by can also help. And yes, you should sanitize your hands often! While it may not look like it, your hands are actually constantly soiled since you use them to closely interact with different objects encountered in everyday life.
So, glancing up the list we have prepared above, how many of these are you already practicing?
If you found this post helpful or informative, don't hesitate to share it with your friends and loved ones so that they, too, can enhance their heart health. And in case you find yourself in need of reliable nursing services, you know you can count on us always!