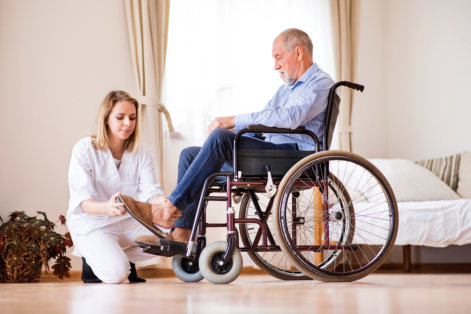 Has your elderly family member decided that they'd prefer aging at home and have nursing services at the ready rather than moving into a residential family? That's no problem at all. If anything, it might be even more beneficial for them since they can stay in an environment that they're already used to. (Plus, they will be able to remain close with the rest of the family!)
But if you're wondering if there are other things you could do (aside from getting assistance from a home health agency in Miami Gardens, Florida) in order to make their stay at home more comfortable, you can always try to:
Do research
As they say, the more you know about a topic, the better you will be able to make a plan of action about it. Don't limit your facts on the internet and research journals. You can also learn valuable information by asking friends, relatives, and even co-workers on how they manage to assist their elderly loved ones who enjoy aging at home.
Modify the indoors
Does your senior loved one have a need for mobility assistance? Even if they don't, installing a couple of handlebars at high-risk areas (such as by the bathtub, shower, toilet, bet, and stairway) can truly help your elderly family member keep their balance and independence!
Prevent fall hazards
Extension cords, power strips, potted plants, coffee tables, rugs, loose floor tiles — these are just among the few things in our homes that can be a potential cause of falls not just for your senior loved one, but even for you as well. Look around your home and see what items you have lying around by the floor. The sooner you have them out of the way, the better your elderly parent/grandparent (and the rest of the family) will be able to get around the house and avoid accidents at the same time.
Reach out
Does your senior loved one live alone? If so, visiting them or giving them a call once in a while will help you stay updated on their current health condition. You can also call upon

Nationwide Healthcare Services, Inc.

to render your elderly parent or grandparent personal care, therapy, or nursing services to make their stay at home more convenient.
Consult professionals
If you have doubts in your mind or are not sure how to proceed, it always helps to connect with a

Nationwide Healthcare Services, Inc

. We have physical therapists among our staff that can direct you on how you can arrange your home to make the overall setting more comfortable for your senior loved one.
Did you enjoy reading this blog? Don't be hesitant to share it with your family and friends! In case you have any questions about the topic or about our services, you can also leave us a comment in the box below! We'll be sure to give you a reply as soon as we can.