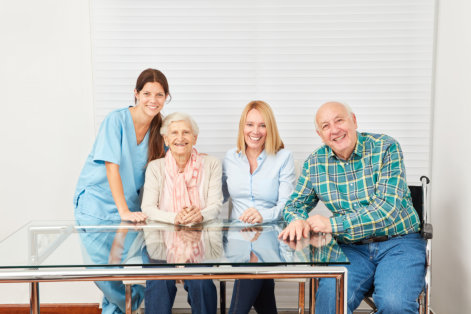 If there is ever something that can knock caregivers off their feet, it's caregiver stress. This problem has become very real and more formidable over the years with caregivers wearing themselves too thin by taking on too many responsibilities in such a short amount of time. When this happens, the results can be catastrophic: caregivers become more anxious, get easily agitated, less motivated, and socially isolated.
Nationwide Healthcare Services, Inc. is a distinguished home health agency in Miami Gardens, Florida that aims to help family caregivers find respite from the stresses and worries of caregiving by providing a wide range of services that address home health care and other issues concerning the needs of health-challenged individuals who have chosen to remain in the comforts of home.
Here are four steps to effectively handle caregiver stress.
Identifying the problem.
One of the reasons why a lot of people experience caregiver stress is because they fail to recognize that it's happening to them. They go through their daily routines not noticing the changes and how these changes are causing them to become different people.
Setting healthy boundaries.
When you do recognize how toxic your life has become, you need to address it and set healthy boundaries. Don't take too much on your plate, learn to ask for help, and give yourself a break every once in a while.
Focus on positive responses.
Instead of complaining, worrying, and giving in to the circumstances you're in, make an effort to create a positive change by centering yourself, steering clear of stressors, and relying on a support system.
Know that there is no "one-size-fits-all" solution to beating caregiver stress.
What worked for a fellow family caregiver might not work for you because you're a different person: you have a distinct personality and handle things differently as well. Choose a technique for handling the stress that is most suitable to you.
It's always easier to manage stress when there is help around. But while there are people who would be more than willing to provide help, you still have to ask yourself if this is the 'right' kind of help. Not everyone has the skill to care for people who are going through complex aging challenges. In these circumstances, you need to work with a home health care specialist like a nurse or home health aide who is trained and experienced at addressing these issues.
Nationwide Healthcare Services, Inc. gives you time to care for yourself, while we care for the people you love. A timeout from caregiving might be just what you need to recharge and relax. Next time stress stares you in the face, go at it with all the determination and fight you can muster, knocking it flat before it has the chance to lay a punch on you.
In what other effective ways did you handle caregiver stress? Please share them with us in the comment section.